Biggest ever annual meeting of the European Astronomical Society (EAS) kicks off June 28th – Public talk by Lord Martin Rees, UK's Astronomer Royal
28 June 2021
Biggest ever annual meeting of the European Astronomical Society (EAS) kicks off June 28th – Public talk by Lord Martin Rees, UK's Astronomer Royal
The annual meeting of the European Astronomical Society will take place online for the second year in a row, from 28 June – 2 July 2021, hosted by Leiden University/Leiden Observatory in the Netherlands. Over 2250 participants have registered for the meeting, the highest number ever.
Due to the pandemic the EAS decided to move #EASLeiden2021 to a virtual meeting again. The conference is the annual professional astronomy and space science meeting of the European Astronomical Society (EAS). Leading researchers will present their latest work.
On the first day of the meeting, UK's Astronomer Royal,Lord Martin Rees (University of Cambridge, United Kingdom), will receive the Fritz Zwicky Prize. He will give a public lecture, titled The World in 2050 and Beyond, on July 1st at 19h30 (CEST). The talk will be streamed via the YouTube channel of the EAS: https://www.youtube.com/channel/UCfpcwTCxro98CtfdE9nX4ew. The lecture is aimed at a large audience and accessible to everyone.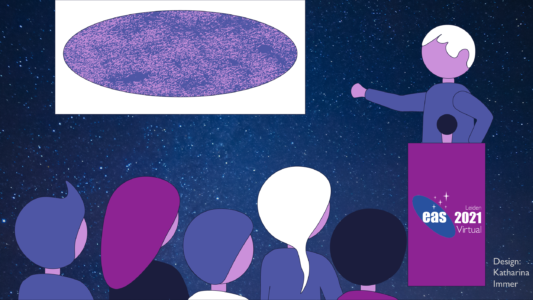 #EASLeiden2021 offers 16 Symposia, 33 Special Sessions and 5 Lunch Sessions. About 1000 talks have been accepted, and 1350 ePosters. In addition, there are 8 Plenary Talks, 3 Community Reports and 9 Prize Award Talks and Ceremonies.
The meeting covers a wide range of topics, from astrochemistry, exoplanets, stellar astrophysics, and gravitational waves, to data science, diversity & welfare, and development & outreach.
A full and up to date schedule of the scientific programme can be found on the official website https://eas.unige.ch/EAS2021/program.jsp.